When it comes to picking a fundraiser for your group, you have a lot of programs to choose from. Whether you're a part of a school, club, or organization, finding the right fundraiser for your group can make all the difference. It's not about picking just any fundraiser; it's about selecting the one that aligns best with your group's needs, goals, and values.
In this guide, we'll take you through the steps of finding the right fundraiser and fundraising partner for your group. We'll explore how to assess your group's unique circumstances, understand your supporters, and evaluate the options available to you. By the end, you'll have all the knowledge and tools you need to confidently decide what fundraising program will get your group to the finish line.
Table of Contents
Assessing Your Group's Need and Goals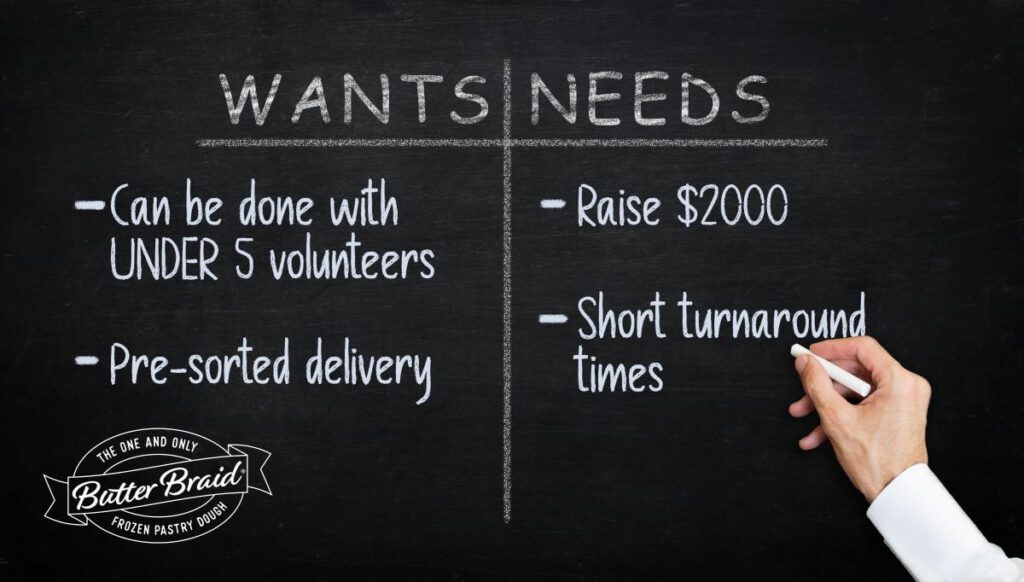 One of the critical starting points in finding the right fundraiser for your group is to assess your specific needs and goals. This step forms the foundation of your fundraising journey and will guide your decisions throughout the process.
Determine your financial needs: Begin by identifying the financial requirements of your group. How much money do they need to raise? Whether it's funds for a school trip, new sports equipment, or any other cause, having a clear financial goal is essential. If you need to raise a large amount of funds, you want to pick a program that can yield large net returns. However, if you need a smaller amount for a quickly approaching event, a dedicated product sale can be a strategic choice.
Define your fundraising goals: Beyond the dollar amount, outline your broader fundraising objectives. What do you hope to achieve with this fundraiser? Are you looking to build community awareness, foster teamwork, or support a specific cause? Understanding the purpose behind your fundraising effort will help you choose a fundraiser that aligns with your goals.
Consider the timeline: Take into account the timeframe you have to raise the funds you need. Knowing your campaign's duration will influence the type of fundraisers available to you.
Evaluate resource availability: Consider the number of volunteers, the amount of time you can commit, and your budget. This evaluation will help you choose a fundraiser that matches your group's capacity and capabilities.
By meticulously assessing your group's financial needs, objectives, timeline, and available resources, you'll lay a solid groundwork for choosing the fundraiser that's the perfect fit. This initial step ensures that your fundraising efforts are not only successful but also in line with your group's mission.
Understanding Your Supporters
When choosing a fundraiser, you aren't just choosing one that works for your group. You're also choosing one that works for your supporters, aka the individuals and communities you'll be engaging with during your fundraiser. After all, your supporters play a pivotal role in determining the success of your event.
Identifying Potential Supporters
Start by determining who your potential supporters are. Are they parents, community members, local businesses, or a combination? If possible, go even deeper and consider factors like age, geographic location, and interests. Knowing the primary segments of your audience will help you tailor your fundraiser to their interests.
Tailor Your Fundraiser to Your Supporters
Once you have a clear picture of who your supporters are, customize your program to appeal to their preferences or needs. For instance, a younger crowd may be more likely to support a fundraiser that comes with an online store, so they can buy and pay online with a credit card. If you have a lot of families in your area, hosting a fundraiser featuring family-favorite snacks, meals, and desserts would be a good option.
Understanding your supporters is like having a roadmap for your fundraising journey. It allows you to tailor your fundraiser to their preferences, making it more appealing and successful. When you consider your supporters' preferences, you will not only raise the funds you need but also build a stronger sense of community and shared purpose.
Tips for Evaluating Different Fundraising Programs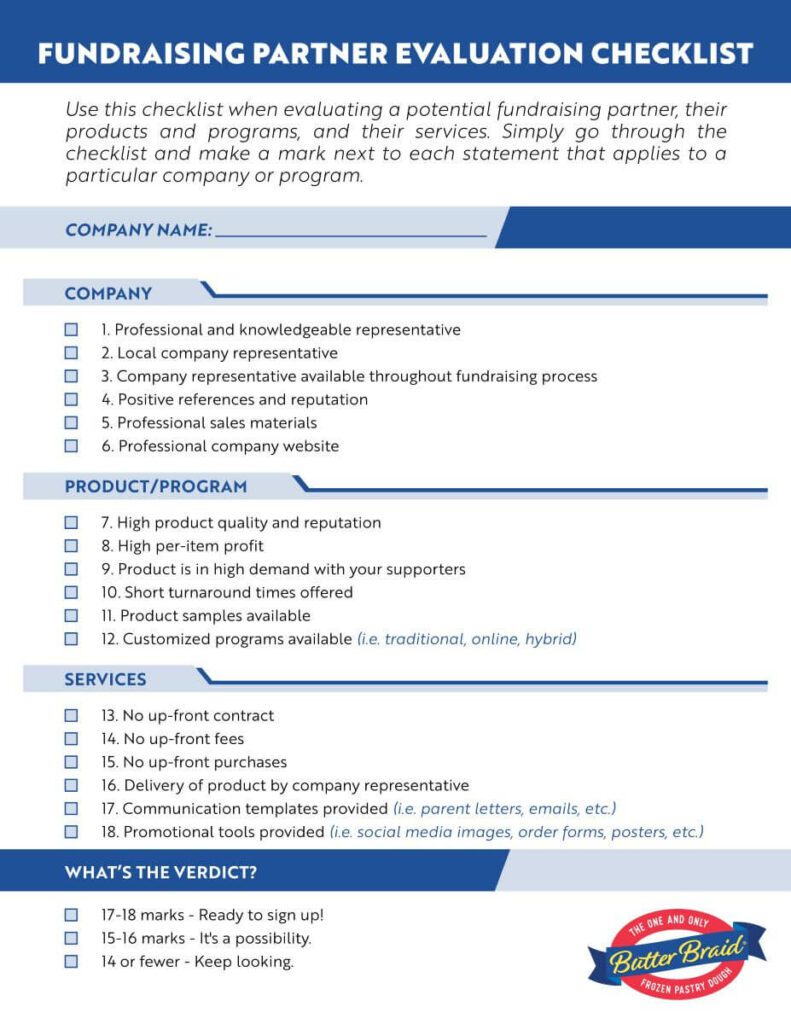 Your Evaluation Checklist
Now that you've assessed your group's needs and gained a deeper understanding of your supporters, it's time to evaluate the companies and fundraising programs available. Not all fundraising opportunities are created equal, and selecting the right partner is crucial for a successful campaign.
To help you make an informed choice, we created a Fundraising Partner Evaluation Checklist for you to utilize when evaluating a potential fundraising partner, their products and programs, and their services. Simply go through the checklist and make a mark next to each statement that applies to a particular company or program. If they score 17-18 marks, they're probably a good option! A score of 15-16 marks means they're a possibility. Whereas 14 marks or fewer indicate you should probably keep searching.
Qualities to Look for in a Fundraising Partner
Even if a company or program gets all the boxes checked on your checklist, you're still not quite done with your evaluation. To really know if a company is the right partner for your group, you need to be sure they share the same vision, values, and commitment to success as you do. That's why we say there are five qualities you should look for in any potential fundraising partner.
Impeccable integrity: Find a partner that will always treat you and your customers with respect.
Good listener: They should truly be listening to your needs and coming up with solutions to meet those needs.
Motivating: A good partner will go out of their way to motivate not only you but also your group. They'll always be coming up with creative ways to help you meet your goals.
Supportive: Look for a partner who offers a range of supportive resources to help you cross the finish line. This can include additional marketing materials, sales tools, and customer support.
Great customer service: Feeling overwhelmed? Your partner should be there throughout the entire process and be willing to help whenever needed.
Conducting a Post-Fundraiser Assessment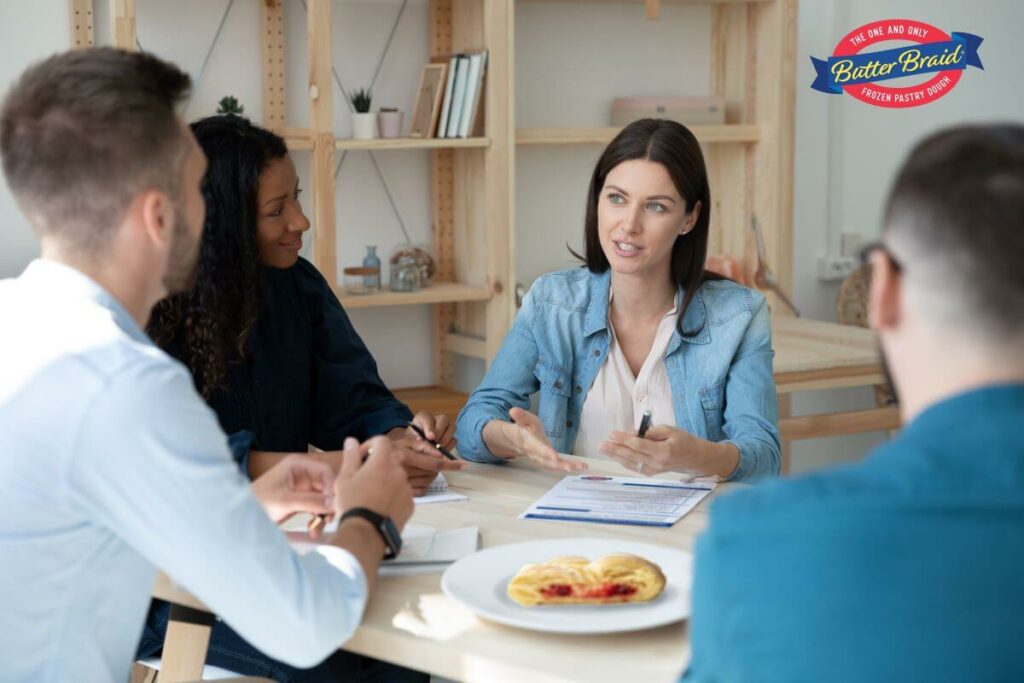 After selecting the right fundraising partner, it's time to put your plan into action. That means you've done it, right? You've completed the process and selected the perfect fundraiser for your group. Well, not quite. Once the fundraiser has concluded, your group should conduct a thorough post-fundraiser assessment. This evaluation stage is critical for learning from your experiences, understanding what worked, and identifying areas for improvement. So, next time you run a fundraiser, you'll have even more information to help you find the one that is right for your group.
When conducting a post-fundraiser assessment, there are several key factors for you to evaluate.
Review the financial results: Start by analyzing the financial results. Compare the actual earnings to your goals and expectations.
Evaluate participation: Evaluate seller participation. Determine how many individuals actively participated in the fundraiser and whether there were any challenges motivating group members to get involved.
Supporter feedback: Gather feedback from those who supported your fundraiser. You can conduct a survey or put out a request on social media for people to send in their thoughts on your most recent fundraising event.
Relationships with partners: Review how well your chosen fundraising partner worked with you and your group. Were they responsive and supportive throughout the campaign? Are they someone you'd like to continue partnering with for future fundraisers?
Document all the lessons learned from this fundraiser. Then, use them to help plan your next fundraiser. Incorporate the insights and improvements you identified during the assessment to enhance the success of future campaigns. This process can seem a little tedious at times, but it will help your group refine its fundraising plan, strengthen relationships with the community and your fundraising partner, and ensure each subsequent campaign is more successful and hassle free than the last.
Are You Ready to Start Finding the Right Fundraiser for Your Group?
Finding the right fundraiser for your group is a journey that involves careful planning, consideration, and collaboration. By following the tips outlined in this guide, you'll be better equipped to choose a fundraiser that aligns with your group's needs, engages your supporters, and, ultimately, achieves your goals.
As you prepare for your next fundraiser, keep these tips in mind, adapt them to your specific circumstances, and don't be afraid to seek guidance from experienced fundraising partners. If you're considering a Butter Braid® Pastry fundraiser, our dealers are always available to answer any questions you or your group may have. Not sure who your dealer is? You can find out by clicking this link and entering your zip code: https://myfundraisingplace.com/dealers. They're always ready to "Share the Good" and provide simple, delicious programs that help you take the hassle out of fundraising.
If the next fundraiser you're planning happens to be taking place around the holidays, you're in luck! In next month's post, we'll be walking you through the facts and figures of fundraising for Giving Tuesday. It's an important time of year for groups, schools, and organizations of all kinds and can play a vital role in your fundraising efforts. This guide is sure to help your group make the most of their Giving Tuesday event.
Until then, happy fundraising!