Volunteers are the backbone of any successful fundraising event. They assist with diverse roles at all stages of the fundraiser, from planning the details to organizing product pick up and everything in between. Volunteers are a key part of any group's ability to move towards achieving their goals.
However, many organizations are unsure of how to manage volunteer recruitment. There's a lot to consider when it comes to finding volunteers for your group: when to start recruiting, where and how to reach out to people in the community, what duties to assign, etc. In this guide, we'll walk you through each of those steps and more. You'll be introduced to volunteer recruitment, learn about its importance, find examples of potential roles for volunteers to fill, and get a series of strategies to help you recruit volunteers for your next fundraiser.
Table of Contents
Tips and Strategies for Recruiting Volunteers
What Exactly is Volunteer Recruitment?
Volunteer recruitment is the process of attracting people to your group, school, or organization and getting them involved with the variety of activities you do. It's about connecting with people who have the time, skills, and interests that would most benefit your group. You might recruit volunteers for a specific event or simply be looking to expand your pool of on-hand volunteers that your group or organization can call when you need support.  
Why are Volunteers Important to a Fundraiser?
As you know, group leaders often have a lot on their plate; fundraising activities are typically either added on as part of their job, like a teacher, or the group leader may be a volunteer themselves. Volunteers help move fundraisers forward by supporting the group leader and the group during their busiest times.
Planning and executing a fundraiser is a lot of work. More support creates a smoother fundraising experience for your group. Volunteers can help with much more than just selling and delivery. They can support you at every stage of the process, from planning to promotion to event support to communications.
Also, bringing in volunteers helps to build relationships with the larger community. It brings together current supporters, sellers, parents, and the general public by getting them all to work together towards a common goal.
Tips and Strategies for Volunteer Recruitment
Identify Your Group's Needs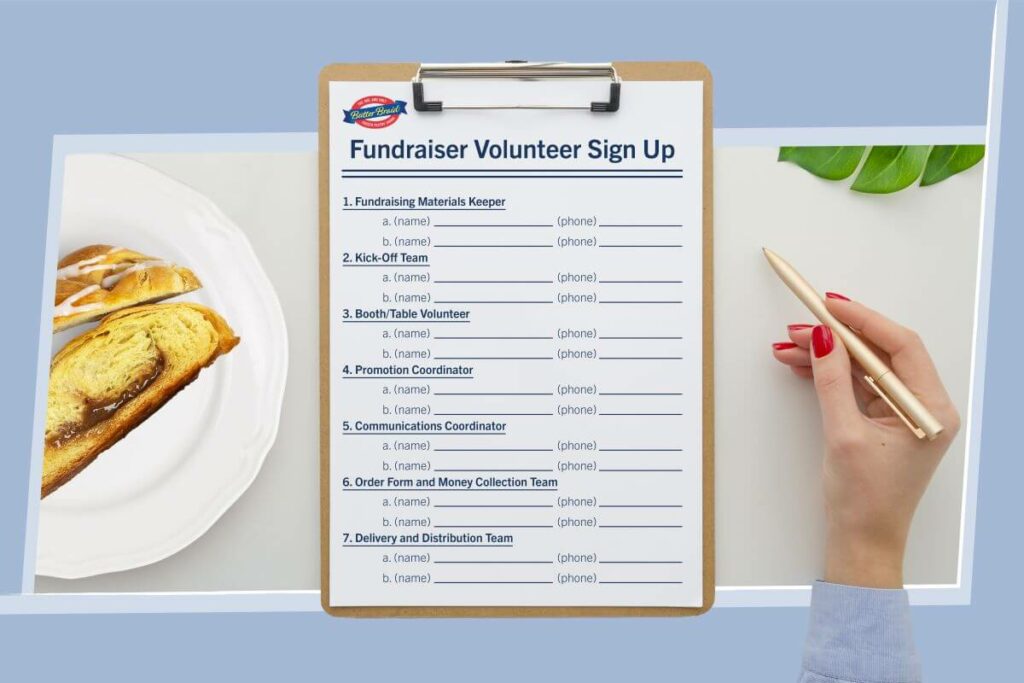 Before you begin announcing volunteer opportunities for your fundraiser, you need to decide exactly what it is you need help with. Take the time to figure out what roles you need to fill then make a list that you can use when talking to potential volunteers. This will help prospective volunteers see what your needs are and know what position they're best equipped for.
Be sure to offer a variety of different roles for volunteers to choose from. Not everyone fits into the same role or has the same skillset. Also, people have different amounts of time available to devote to your group. Some may only be able to help for an afternoon while others can help throughout the whole fundraising process. When you have multiple roles to fill, you increase the number of people who are able to help your group.
Different roles you could have include…
Promotion/Marketing Coordinators: volunteers in this area can be in charge of creating posts for social media, hanging up posters, handing out flyers, getting ads to newspapers, etc.
Materials Keeper: this person(s) oversees all the fundraising materials provided to your group. This includes parent letters, posters, folders, order forms, and more. They will help you distribute these items to sellers.
Kick Off Team: This group will be in charge of scheduling the kick-off event. They'll set up tables, prepare any necessary equipment, gather miscellaneous materials, etc.
Booth/Table Volunteer: If your group is setting up a table in a public space or at a local business, these volunteers will be in charge of set up, scheduling which sellers will be at the table on what days, and chaperoning the group while they're selling.
Communications Coordinator: volunteers in this group will be in charge of writing and responding to emails, creating any supporting materials, like morning announcement scripts, and sending reminders to parents and sellers.
Order Form and Money Collection Team: once your fundraiser has concluded, this group will gather the order forms and money from each seller. They will tally up the orders and mail it in to the fundraising company. If you partner with a company that has an online store, they will be in charge of adding any paper order forms to your total, closing the store, and sending in any remaining materials.
Delivery and Distribution Crew: This group will schedule the pick up date and time. They will reserve a space and set up tables for the product. Finally, they will help organize order forms and help sellers collect their entire order.
Utilize Current or Past Volunteers
Now that you know where you need help, it's time to get the word out that you're looking for volunteers. Start by reaching out to people who already volunteer with your group or who have in the past. For most fundraising groups, this will involve the parents of your sellers. Parents, or other family members, are most likely to volunteer because they have an established connection with your group. They know how this fundraiser will affect their children and themselves, they know about your mission, and they want to see their children succeed in reaching their goals. However, parents are also extremely busy. If you plan on your volunteers mostly consisting of parents, you should begin communicating your need for support as early as possible. This gives them enough notice, so they can block off time in their schedule to help.
Parents and families do a lot, but they can only do so much. There are already a lot of demands on their time. Thankfully, there are plenty of people in the community who would love to do their part in helping to support your group. Reach out to past teachers, group leaders, and volunteers who have left your group. Even if they can't volunteer, they probably know someone in the area who can. They just need to know you have a need.
Communicate with People on Your Email List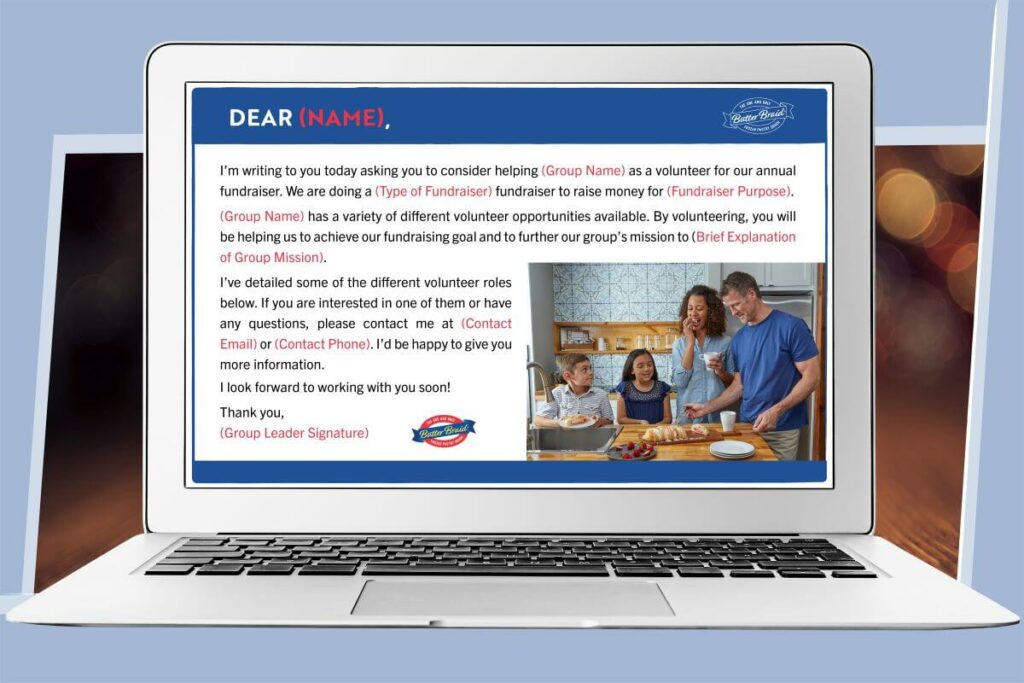 After you get the word out to the people closest to your group, tell everyone on your email list that you need volunteers for a fundraiser. Send it out to fellow faculty, local partners, sister organizations, etc.
If you do decide to send out an email, use the template above to get started.
Post on Social Media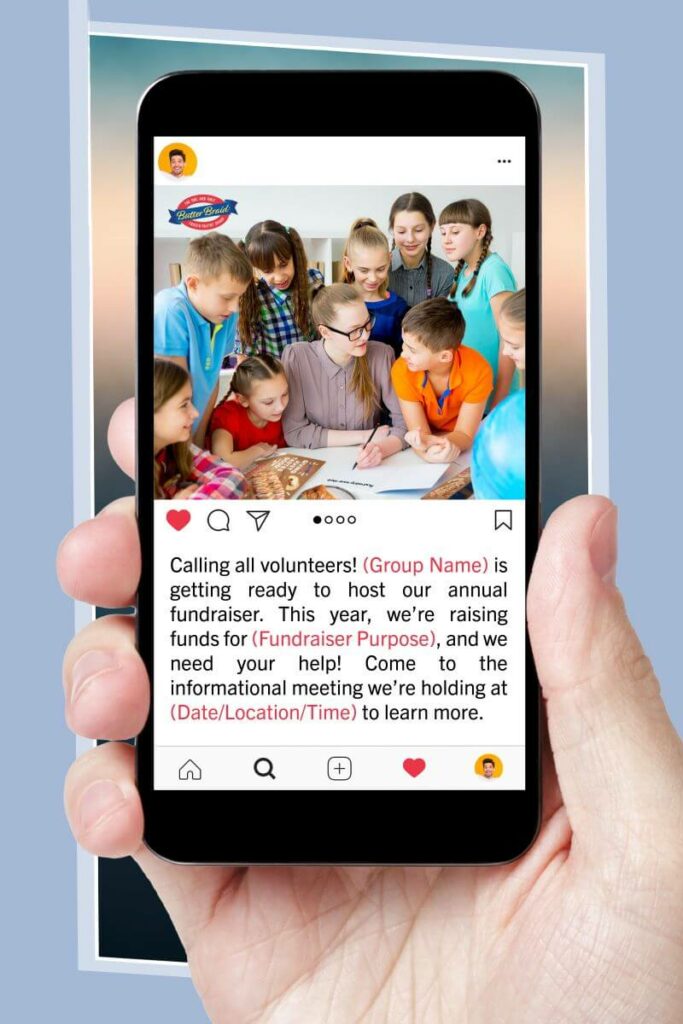 Social media is where people make a lot of their connections. It's where they share photos with friends, have discussions with people in their industry, and post about upcoming events. This is also what makes it such a great place to find volunteers.
The people who follow you and your group have already shown their interest in what you do. That's why they follow you. If you want people on social media to know about your volunteer opportunities, you need to talk about them. Post on your page frequently about your need for volunteers. Include contact information and details about your first volunteer information session, so those who are interested can learn more about your fundraiser and sign up.
During and after the fundraiser, make several "thank you" posts to your volunteers. You can even spotlight specific people and the work they do. This will show your followers, volunteers, and community that you value the people who help you, and it will inspire others to get involved with your group in the future.
Provide a Purpose
No matter how you get the word out, whether it be in person, by email, or online, take care to always explain the "why". Explain why you are fundraising and what you're hoping to achieve. Tell potential volunteers how their efforts will help you reach your goals. Providing a sense of purpose motivates people to volunteer, encourages them to follow through on their commitments, and helps to maintain a lasting relationship with your group long after the fundraiser has ended.
What Are the Next Steps?
You got the word out there, and people have signed up or expressed interest in volunteering. That's great! Now, what do you do? Here are some of the steps you can take to continue with the volunteer recruitment process.
Plan an Informational Meeting
For people that are interested in volunteering but want to learn more before signing up, try hosting an information session. This will give you an opportunity to expand people's knowledge of your group, explain your fundraiser, and discuss the available roles in detail. Here's a list of things to cover: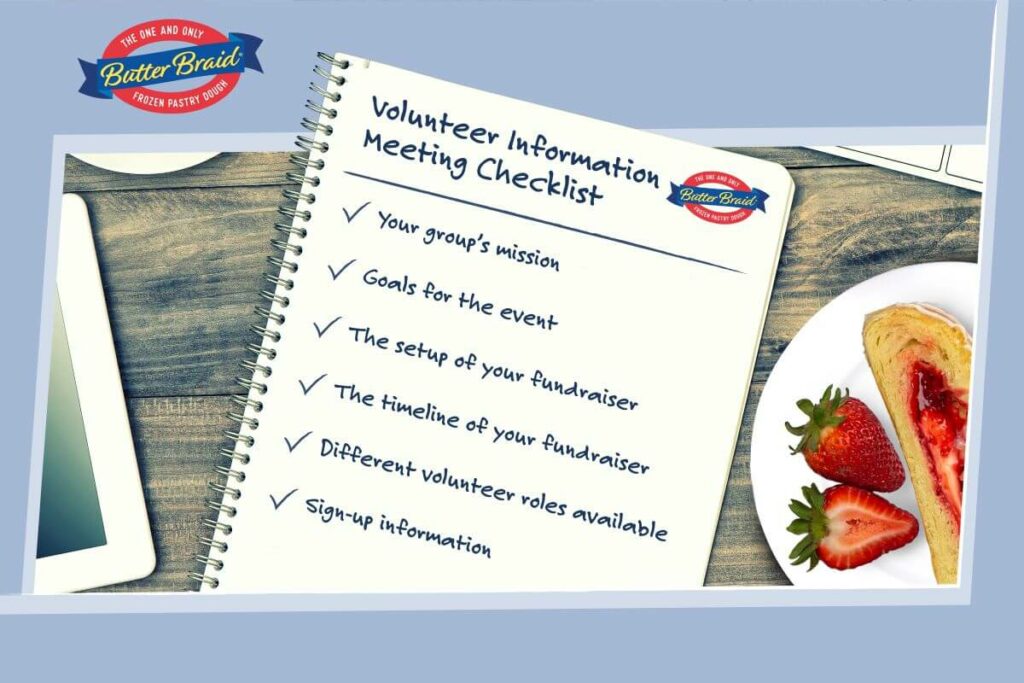 Have People Commit and Choose a Role
When people are ready to commit to volunteering, ask them to fill out a sign-up form at your informational meeting or have a sign-up form available on your group's website. Set up your form, so people can sign up for specific roles that are available.
Having them choose a role allows you to see what roles you have enough people for and which ones you may still need to fill. Planning ahead like this helps to ensure you are organized and prepared for every step of your coming fundraiser.
Provide Necessary Training
Communicate with your volunteers and let them know exactly what is expected of them. Train them on how to best fulfill the roles they signed up for. It doesn't have to be long, in-depth training sessions. It may just need to be another group meeting where you go through each role, answer questions, and give any specifics that apply to your group and your fundraiser. Show them you have a clear plan for them and what they'll be doing with your group.
This is also a great time to remind your volunteers of how they are contributing to your goal and why their help matters. This extra time and communication will help your volunteers feel supported and confident when it comes time to fulfill their duties.
Show Your Gratitude
Remember to thank your volunteers for their time throughout the fundraiser. When the fundraiser concludes, send a thank-you card, give them a call, or post your appreciation on social media. You can go above and beyond for your volunteers, like they did for you, by hosting a thank-you gathering. A small meal or activity would be a great way for everyone to relax after a busy fundraiser and for you to show how much you appreciate their hard work.
Follow Up with Your Volunteers
Continue to check in with your volunteers periodically. Don't stop communicating once the fundraiser has ended. Update them on the progress of your goal post-fundraiser and send them information about how your group is doing and what you're up to. Keep them in the loop, make them feel important and involved, and they will be more likely to volunteer with your group again.