It's a new month and with a new month comes a new "Dealership Spotlight" feature. For October 2022, we are shining the spotlight on the achievements of 5 Star Fundraising and looking back on its journey with the Butter Braid® brand. Since joining the Butter Braid Fundraising team in 2007, 5 Star Fundraising has distinguished itself with the high-quality products and superior customer service that it brings to each of its fundraising groups.
History
5 Star Fundraising is owned and operated by Bill McMillen. Bill has not always been in the fundraising industry; in fact, he spent over 30 years as a contractor before deciding that he was ready for a change. In the next stage of his life, he wanted a career that would present new challenges while also allowing him to continue to work with the wonderful people in his community. Eventually, he discovered Butter Braid Pastries and the fundraising dealerships that sell them.
When the opportunity to open a dealership in his area came up, Bill knew this wasn't a chance he wanted to let pass him by. A short time later, in February 2007, Bill opened 5 Star Fundraising.
Changes to the Dealership
5 Star Fundraising has been slowly growing over the last 15 years which has allowed Bill to really expand his business. During this time, he added a forklift, a walk-in freezer, and 2 freezer trailers to increase the number of groups he can serve in a season. 5 Star Fundraising has also moved into a new building that Bill owns in his town of Scottsbluff, Nebraska, so the business can continue to have room to grow in the coming years.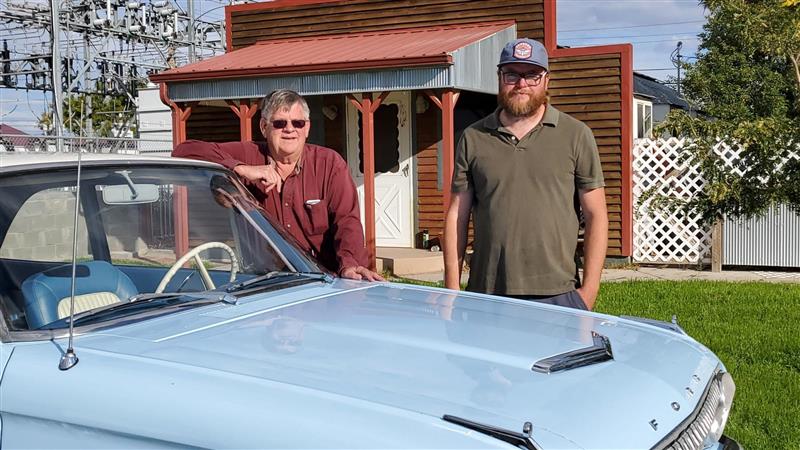 In the picture above you can see Bill and his son, Justin. Behind them is 5 Star Fundraising's office. In the front, you can admire Bill's "new" care, a 62 Ford Falcon Futura!
Fundraising Groups
5 Star Fundraising's mission is to help groups raise the funds they need by supporting them through each step of the fundraising process, from beginning to end. Bill's dedication to that mission is why his dealership has been able to help so many groups reach fundraising success. This dealership has worked with groups to raise money for everything from school trips to playground equipment to education materials to church projects and more. Since 2007, 5 Star Fundraising's groups have raised almost $2 million for local causes.
Bill says that being able to offer a high-quality product to all his fundraising groups, both small and large, has been very rewarding. "People buy our products because they truly want them," Bill explains. "I had one group leader decide to skip their annual Butter Braid Fundraiser one year to do something else, and the people in her town were very disappointed and requested she bring them back for the following year. It's just the kind of product people gravitate to."
What Bill Wants You to Know
Bill McMillen has learned a lot from his many years in the service and fundraising industries. In fact, he has compiled a few pieces of advice for all the people out there who aspire to one day open their own business. "My advice to anyone who wants to be their own boss is to work hard, arrive early, and take care of any issues or problems your guests have," Bill says. "It sounds simple, but it truly makes a big difference. If you do these three things, customers will return to you over and over. Repeat customers kept me in business in contracting, and it works the same in fundraising. I'm positive it will do the same for you."
It's been wonderful to have 5 Star Fundraising as part of the Butter Braid Fundraising team these last 15 years. Bill McMillen puts a lot of time and effort into each program he offers to ensure that his fundraising groups always reach their goals. If you are in Nebraska or Wyoming and want to run a fundraiser, contact 5 Star Fundraising today! With Bill McMillen, you're guaranteed to have a 5-star fundraising experience.
Connect with 5 Star Fundraising Today!
Website: https://5starfr.com/