The end of the year is coming up quickly, and it has brought with it some of the most important days of the year for fundraising. The year-end giving season is when support for groups, schools, and organizations is at its highest. With a great end-of-year fundraiser, groups can go above and beyond all their goals and start the new year off on the right foot.
What exactly is an end-of-year fundraiser? Why is this the time of year when people are so focused on giving? What do you need to do to prepare?
To help increase the success of your end-of-year fundraiser, we created a guide that will answer all those questions and more. We'll review the importance of the holiday giving season and the best practices to follow when it comes to planning your own campaign.
Table of Contents
What is an End-of-Year Fundraiser?
A holiday, or end-of-year, fundraiser is a campaign designed to help a group or organization raise the funds it needs as it prepares to enter a new calendar year. Typically, this happens in the last six weeks of the year, between Giving Tuesday and New Years' Eve.
Why is an End-of-Year Fundraiser so Important?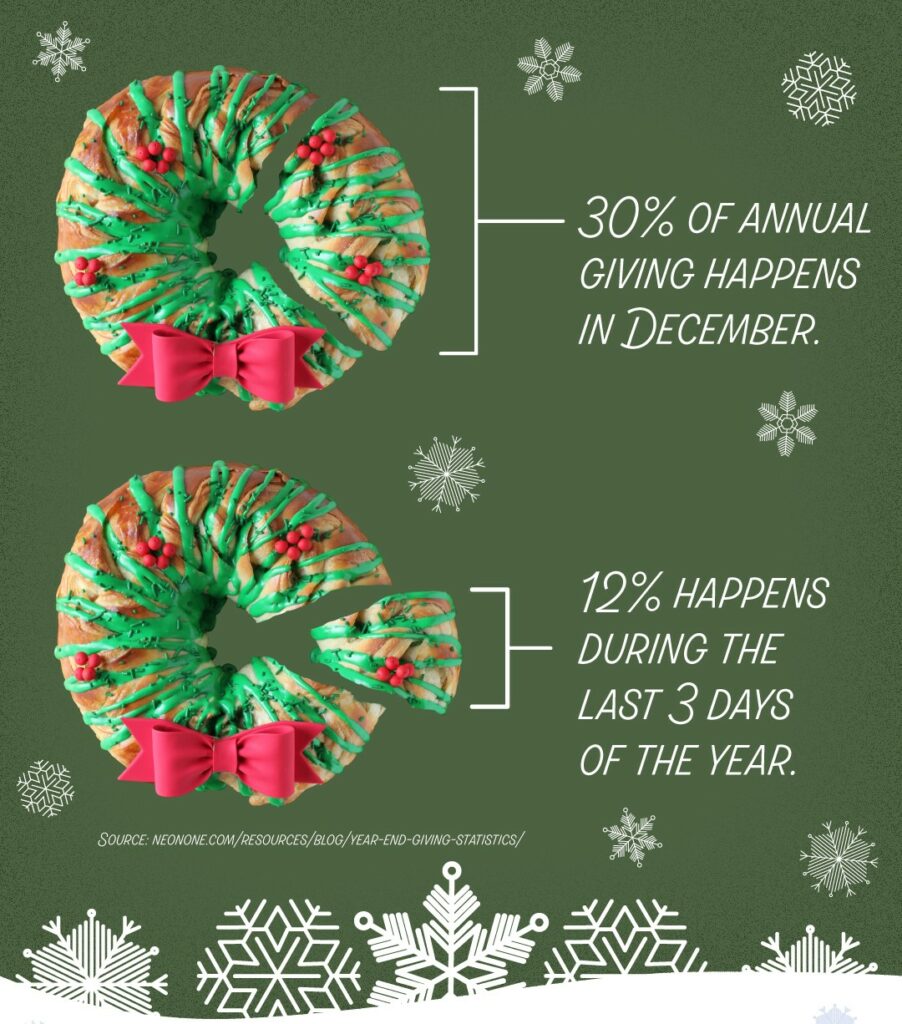 The last six weeks of the year are when most donations are made. Over 30% of all annual giving occurs in December, with 12% happening during the last three days of the year. During this time, groups can raise up to 50% of their yearly goal with just one fundraiser (Neon One). It's clear that the holiday season can have an incredible impact on a group's fundraising efforts. That's why it is essential for group leaders, teachers, and fundraising coordinators to understand the statistics and best practices that can help them perfect their end-of-year event.
Why Do People Give During the Holidays?
This is the time of year when people want to give back, do more, and "Share the Good". Most holiday traditions include gift giving of some kind and many also put an emphasis on kindness, charity, and helping others. It's when people feel motivated and compelled to give to others, especially knowing it may be their last opportunity to do so for the year.
How to Maximize Support for Your End-of-Year Fundraising Campaign
Start Planning Early
Since the end of the year is critical for fundraising, you need to start planning early. There's no doubt that holidays are a time when people are more likely to volunteer and donate. However, holidays are also busy. Members of your group may be travelling or have other events that keep them from fully participating in your fundraiser. It's also a time where you'll be competing with many other groups or organizations who are also raising funds.
All these details must be factored into your plans if you want your end-of-year fundraiser to be a success. Give yourself enough time to prepare a fundraiser that works with people's schedules and stands out from the crowd without being rushed.
Tailor Your Ask
End-of-year fundraising appeals need to be tailored to your event, audience, and goals for the next year. Remember, just because people are more likely to give during the holidays doesn't mean they're automatically going to choose your fundraiser or group to support. Your year-end appeal is your chance to stand out to supporters and convince them that your group is one they should give their time and/or money to.
When you or your sellers are asking for support, your message should:
Define the goal
When asking someone to purchase from your fundraiser, tell them what your goal is. You don't need to make it about dollars and cents; instead, communicate your goal in number of units. For example, sellers can say they want to sell 20 items to support their group. Being clear about your goals gives supporters an idea of how they can meaningfully contribute and move your group closer to that goal.
Show the impact
Don't stop at just saying what your goal is. Being specific with goals helps your supporters understand the precise impact of their giving. For example, don't just have sellers say, "My goal is to sell 20 units to support the high school band." Have them say, "My goal is to sell 20 units to help the high school band raise funds for new uniforms for our upcoming competitions."
By explaining how a supporter's contribution will be used, it makes them feel more connected to your group and your cause. Also, when you share the results of your fundraiser, they can clearly see the results of your efforts and their support.
Explain the timeline
This is very important when it comes to an end-of-year fundraiser. Most likely, if you are fundraising in the last six weeks of the year, you are trying to get a head start on raising the funds you need for the following year.
When reaching out to supporters, give them a general idea of when you will be putting your plan for the funds into action. If you're raising money for a trip, tell them when that trip is. If it's for new playground equipment, let them know where they can go to see the occasional update. People will be more likely to give when they can see their contributions at work.
Set Your Fundraising Goal
If you or your group have done a year-end fundraiser before, information from those events will help you set your goals for this year. Look closely at past campaigns to see what worked and what didn't and use that to determine a competitive yet achievable goal for your group's next year-end fundraiser.
If this is your first time doing a year-end campaign, work closely with your fundraising representative to set an appropriate goal for your group. They can look at the size of your group and the cause you are fundraising for and compare it to similar fundraisers they have run in the past to help you set an appropriate goal.
Identify Your Channels
A successful end-of-year fundraising campaign will utilize multiple channels to reach supporters. 60% of groups contact supporters 1 to 3 times during their year-end campaign (Neon One). This is because supporters are more likely to give if they hear about your fundraiser on two or more occasions or through two or more channels than they would be if they only hear about it once.
When considering which channels you should utilize, consider who your audience is. In 2021, the average age of a supporter was 65 years old (Kindness Financial Planning). This age group tends to prefer receiving requests for support in person or by direct mail. Going directly to them or sending a handwritten letter is more likely to result in them supporting your fundraiser.
Millennials prefer the digital route. Promoting your fundraiser to them should be done online using websites, social media, and email. Pay extra special attention to how these mediums work on mobile devices. If you're promoting your fundraiser online, mobile-friendly websites, emails, and forms should work together to maximize a supporter's experience.
Consider Adding an Online Store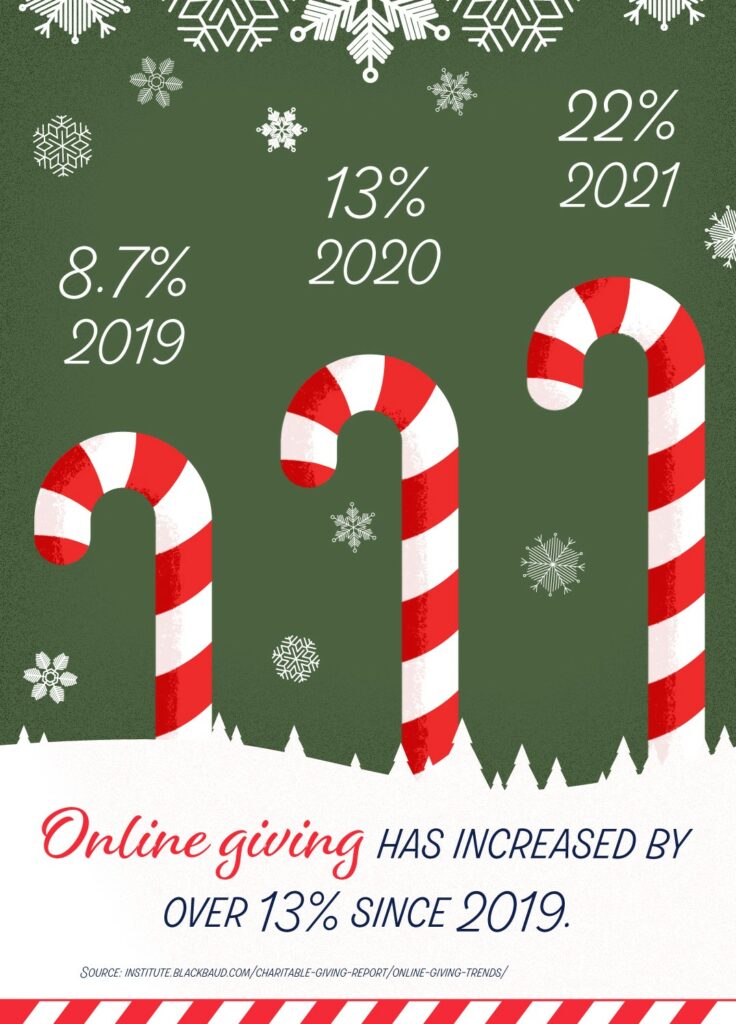 13% of all funds raised in 2020 came from online donations; this number increased another 9% in 2021. This is a large increase from the 2019 online donation total of 8.7% (Blackbaud Institute). That's why, we recommend you consider choosing a fundraiser that has an online store option to add to your traditional, paper fundraiser. It allows supporters to order and pay online using a credit card or mobile wallet which makes supporting your group simple and easy.
Choose the Right Time to Host Your Fundraiser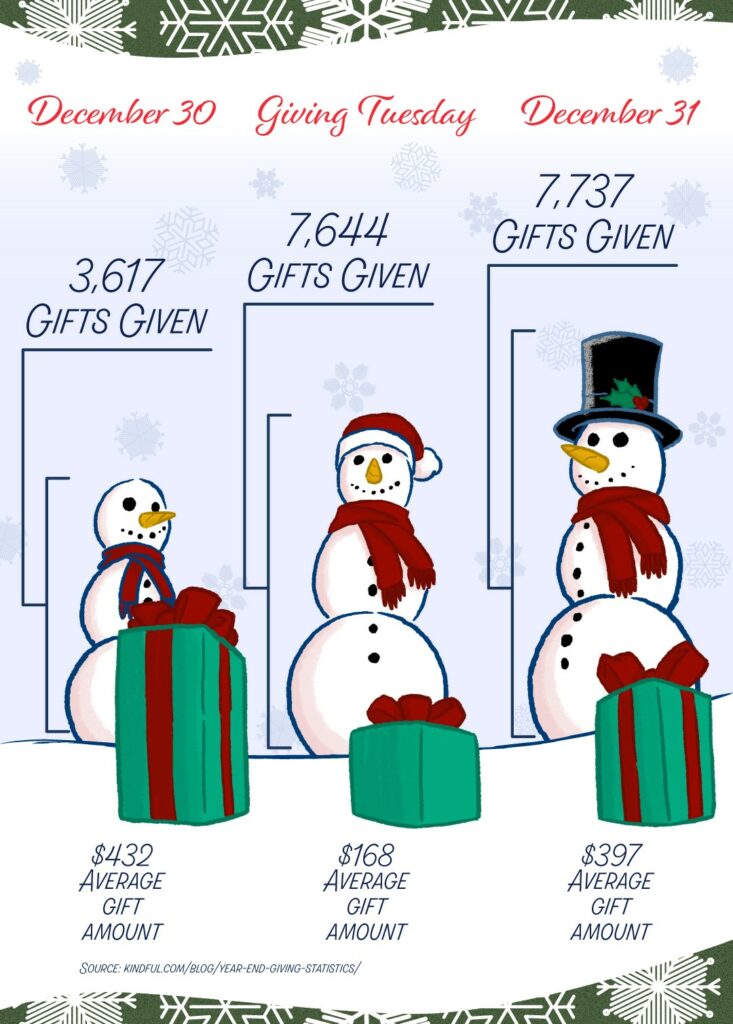 Different days see different numbers of donations. The three biggest days for giving during the holiday season are Giving Tuesday, December 30, and December 31 (Kindful). As you can see in the infographic above, both Giving Tuesday and December 31 bring in roughly the same number of total donations. However, the average amount being donated is higher on December 30 and 31.
If you have a larger group or a group that breaks for the New Year holiday, it may be better to look at hosting your fundraiser around Giving Tuesday. While people tend to give in smaller amounts, they make more total donations, meaning they are more likely to purchase from multiple fundraisers or from multiple sellers. There are also a lot of other benefits to fundraising on Giving Tuesday. To find out more, check out our blog post on why you should host a Giving Tuesday fundraiser.
If you have a smaller group that is able to fundraise during the last few days of the year, you should consider hosting a fundraiser over December 30 and 31. Since this is their last opportunity to support a local cause for the year, people are shown to give larger amounts during this time. This means your group could see a more significant bump in the number of items sold during these days than they would on other days.
An End-of-Year Fundraising Campaign Sample Calendar
August
Start planning your fundraiser. It may seem too early to start thinking about the holidays just yet. However, exactly how much time you need to spend on planning will depend on the size of your group and the amount of funds you need to raise. Still, it's a good time to start ironing out the basics, like:
Who will you recruit to help with the fundraiser? Who will be on your team?
Do you need volunteers? If so, how will you inform other teachers, parents, or community members about your need for help during the upcoming event?
Start assembling your to-do list.
September
Make a finalized list of tasks to complete before the fundraiser can start. Begin to develop your communications. Prepare your graphics and write your content for touchpoint emails, social media posts, webpages, etc. Don't forget to include the most important details:
When is your fundraiser?
What are you fundraising for?
What will you be selling?
How can someone place an order?
Roughly, when will orders be delivered?
Contact information
October
October is when you should be focusing on finalizing schedules, completing any graphic resources you need, and sending out reminders to parents and guardians about your upcoming event. Remember, holidays are a busy time for families. If you want them to be involved, you have to give them time to prepare.
November/December
Early November is the time to start promoting your event! Social media is probably the best way to get word out this early in the season. It helps you to engage supporters, spread awareness of your cause, and encourage people to get involved. Getting information out early also means your group's fundraiser will be one of the firsts on people's radar, so you won't have to deal with as much competition down the line.
Late November or early December is when you'll kick off your fundraiser! Typically, fundraisers last for two weeks, so choose the best two weeks for your group to fundraise between Giving Tuesday and New Year's Eve. If you wait to start until later in the holiday season, spend the time before it starts continuing to promote on social media, sending out email blasts, and preparing your sellers.
January
Send out thank-you letters to your supporters and volunteers once the fundraiser has concluded. Remember to include important details like reminding supporters how their donations will be used and re-stating what your goal was and how close you came to achieving that goal. Finally, let everyone know where they can go to find updates on your project/group for the future.