The Butter Braid® brand has a new look! We've updated our logo, typeface, packaging, marketing materials, and even created a new tagline. Our dealers' and customers' needs are always evolving, so our business and products are growing right along with them. We're not like the other fundraising brands on the market. The commitment we have to our core values and our customers sets us apart from the rest, and now the brand's new look will help further separate us from the pack.
Logo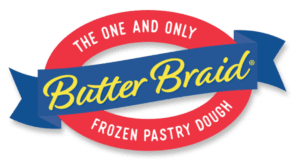 Every business needs a logo that represents its values and attributes. After all, a logo is what creates a first and lasting impact on the public. The Butter Braid brand has always been proud of the message its logo conveys to its customers. That's why the message is the same – we just tweaked the design a little. Our new logo is smoother around the edges with less harsh outlines to give it a more modern feel.
Packaging
The flavors of our Butter Braid Pastries are rich and delicious; don't worry, we'd never change them! But we did change the packaging of our product to better highlight those great flavors. We've chosen a horizontal design concept that prominently displays the main ingredient of each pastry. This new style also allows us to feature more color in our packaging which makes it easier for our customers to find them in the freezer!
Marketing Materials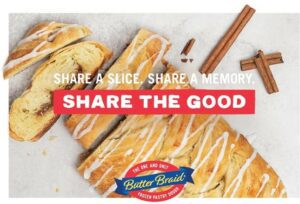 Our marketing materials have also undergone a redesign. The new, fresh imagery gives our materials a more modern feel that will better connect to consumers of all ages. The photos we've featured contain a nice blend of lifestyle and product photos.
"Share the Good" is the tagline for the new and improved Butter Braid brand, and we are in love with it. The word "good" is referring to several different things: the good taste of our products, the good feeling you get when you share our products with people you love, and the good you're doing for your community by buying and selling Butter Braid Pastries. There's just so much good to go around!
All these changes have opened us up to great new opportunities and ensured we will be staying around for plenty of years to come. But, rest assured, while our look may have changed, we're still the same brand that you fell in love with. We've just given ourselves room to grow.